3D visualization
Expansive Lotus Open Space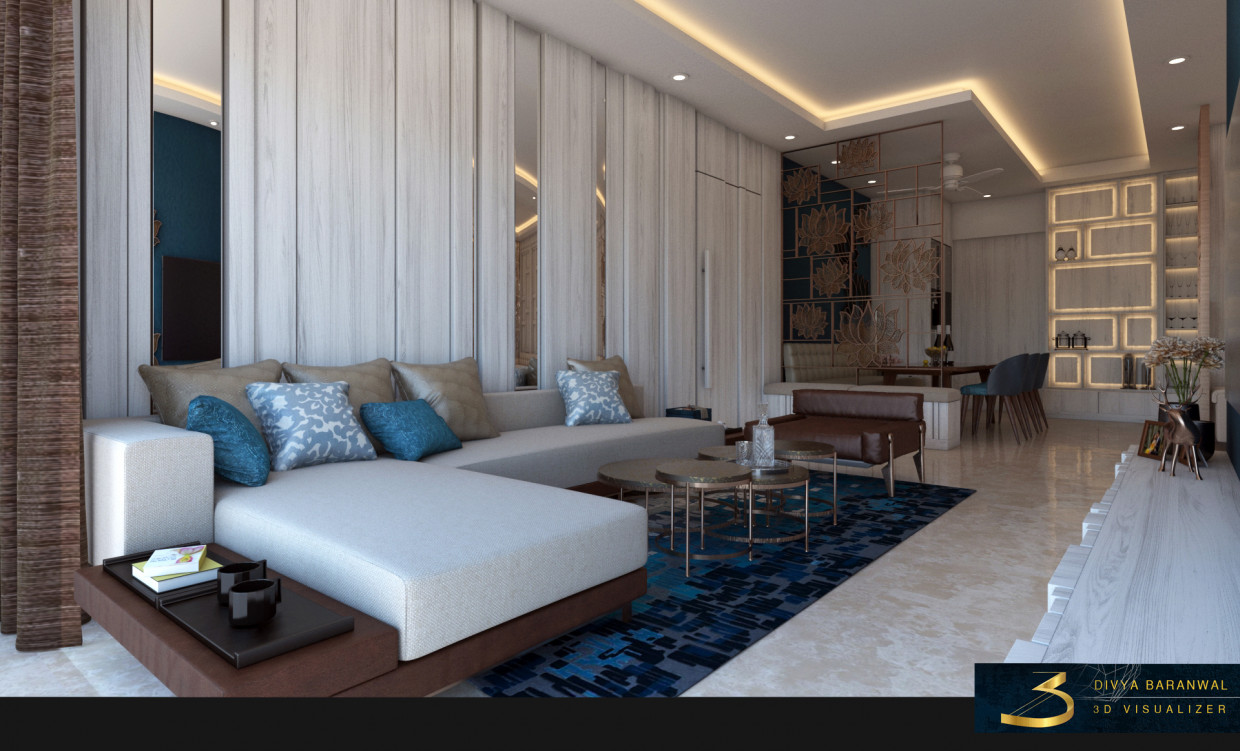 3D-work specification:
| | |
| --- | --- |
| 3D-editor | 3d max |
| Renderer | vray 3.0 |
| Time expended on work | 2 weeks |
| Time expended on render | 1 week |
| Polygons | 5 021 706 |
| Publication date | |
Description:
I have kept in mind the white and blue favorite colors of the client for this space and have incorporated mostly white veneer for all the panelling and furniture.

There is an original partition made up of rosegold with lotus flowers encasing glass with golden glass stickers. The lotus is the main design element of the entire space and the theme can be seen all over the open space. Since the living space is a formal seating area, the walls are panelled in bar code pattern with veneer and mirror. The sofa is a luxurious comfortable piece in white fabric with extended parts to keep trays, etc. The Tv wall is soaked in a royal blue paint with the lotus motif as a stand out piece.The informal seating is more cozy and warm with a veneer and wallpaper panelling from Nilaya. The sofa is a combination of the living room piece and the dining set, with cushions is ethnic prints. The informal seating leads to the mandir spac. The placement and design has been made to keep in mind the early rays of the sun to filter the room through the mandir.
Style:
Avant-garde
,
Antique
,
Oriental
,
Classicism
,
Minimalism
,
Eclectic
,
Scandinavian